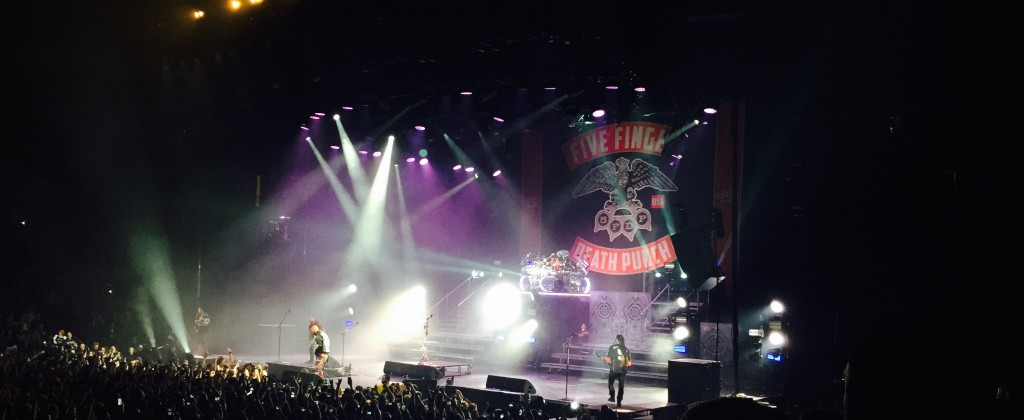 NOTE:  Sections of this post include implied PROFANITY; please click with caution.
Truth be told, sometimes I'm purely exhausted.  So when my son asked if he could contact his cousin about attending some concert, I grunted my version of permission, positive he wouldn't get tickets.  Man, was I wrong.
Instead, we found ourselves with two tickets to see  Five Finger Death Punch, Shinedown, SIXX: A.M. and As Lions at the Prudential Center. Exhausted from the holiday, I was dreading the trip to Newark, but I was very excited about some one-on-one time with my kid.
Now Newark New Jersey is not the garden spot you might imagine. Instead it's a bustling business center that's home to the Prudential Center and a great Portuguese restaurant.  And while I wasn't thrilled about bringing my son someplace where I might have to bodily protect him, that night the parking, will call and security processes were seamless.  We walked with other metal heads, found our section, row and seats and settled in to enjoy the concert.
Full disclosure?  We arrived a bit late and missed As Lions so our concert experience started with SIXX: A.M. On stage the band members were exactly as I expected.  Fluffy haired and adorned with chains SIXX: A.M. was singing at a decibel I could not comprehend. The deep, intense beat of the music made my mind so foggy that I forgot the worries of my day.  What were they singing about?  Who knows?  I was feeling quite zen.  All I remember is the artist's closing words which I will paraphrase "we are thrilled to be in Newark, New Jersey!  Just open your eyes; life is beautiful. Thank you, thank you very much".  Huh? While this was not what I expected, I felt the wave of gratitude roll over me.
Next up was Shinedown. Amidst erupting flames and drums powerfully thumping, three men burst onto stage.The guitarists danced and spun in a way that can only be described as artfully aerobic.  The lead singer moved with the grace of a yoga instructor who drank a Pilates and kale smoothie for breakfast. The complete synchronization of Shinedown had me riveted and, as they ended their set with a thoughtfully kind statement, "Be good.  Be good to each other.  God bless you all", the room exploded with applause!
Finally, Five Finger Death Punch, what can I say?  I was already standing, pumping my fist and laughing heartily as the lead singer leapt onto the stage dressed as a deranged toddler. While the music was loud and raw with emotion, his heartfelt comments added great texture to the performance! The songs were loaded with profanity and I wondered who had inhabited my body and why was she jumping to the lyrics "burn MF burn MF burn"?
I'm telling you, with my heart pounding and adrenaline pumping, I was happy!
So was this the bonding experience I wanted it to be?  Resoundingly yes!
The arena was packed with 50 somethings partnered with teenagers.  The kid in front of me was rocking out and shaking her head so vehemently I was afraid she might get a concussion.  In between sets, she'd prattle on about each band and then thankfully hug her Mom and Dad.
For our part, we learned a few lessons from the extemporaneous commentary. Profanity aside, mid-set, the lead singer of  Five Finger Death Punch asked the engineers to raise the house lights.  Once he could see the audience, he asked for the folks who were currently serving, or who had previously served in the US Military to raise their hands. Hands flew up around me and we clapped with joy!
Through proud chants of U.S.A., my mind settled enough to realized that we'd learned a few lessons on Saturday night: First, don't take yourself too seriously.  Next, we all get second chances and, finally, if you do something wrong, remember to apologize.
I know these seem simple, but when was the last time you did something truly outrageous?
Is it time for a colossal do over?
Or, do you owe someone an apology?
Now, that's something to think about.
Have a great week,
Post Script:  Spud, I now count you as a traitorous, bearded mongrel — and I love you!
Comments
comments