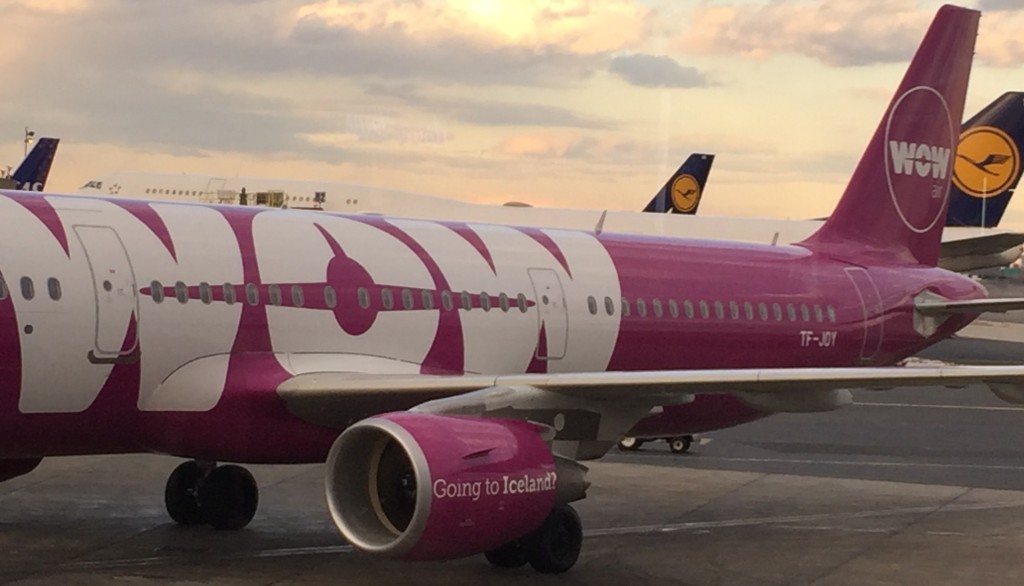 There are a few things you should know about me; I'm an adventurer and I have a bit of a wild hair.  I don't have a bucket list but I joyfully follow my heart and intuition when it comes to living my life.
So where'd I go last week?  Yummy, perfect Iceland!
For those of you who need a wee-geography refresher, Iceland is a small yet sophisticated island situated between North America and Europe.
In recent years, Iceland has become a very popular "stopover" destination encouraging Europe-bound travelers to "rest and relax" before traveling to their final destination on the continent.  This ingenious "break-up long haul strategy" has significantly boosted tourism, and subsequently stimulated economic growth on this meteorologically diverse island.
I however was not traveling beyond Iceland.  Instead I had 48 hours to carry out the two items on my to-do-list; see the Northern Lights and drink vodka off an iceberg.  No, I didn't need to soak in the Blue Lagoon or see whale tails; lights, vodka and maybe a sweater.  That's what was on the list.
However, as I've stated over and over again via this BLOG, best laid plans often go awry leading to experiences that go so far beyond my wildest dreams.  This jaunt didn't disappoint.  My itinerary was simple; fly Thursday, arrive Friday, explore Reykjavik, sleep.  Saturday I would trek up the east coast in pursuit of a vodka spurting ice cap and the Northern Lights.
Friday I pretty much stuck to the plan.  I wandered the quaint streets of Reykjavik and located the Hallgrimskirkja church where I'd start my journey on Saturday. Happy my adventure was falling into place, I set off to buy a sweater and find the historic harbor where I would eat dinner.
Knowing I was in fish central, I decided to eat, as I always do, whatever is indigenous to the region. In this case, whale was on the menu.
Deep red, and a bit gamey, whale tastes way more like beef than fish, which makes sense since it's technically a sea mammal.
Vegetation being a bit of a luxury, I had a side-kabob of a white fish that had a name only found in a bowl of alphabet soup.  My meal was eaten at a communal table with a lovely bottle of wine.
As I ate, I wondered if I'd ever been so content?  How was it I could be alone in a cold, dark, ice block of a country, eating whale parts with strangers and yet be completely at peace?
Sated, I walked back to my hotel and settled in for the night.
6AM came very early on Saturday.  I dressed warmly and walked the quiet streets to the church where I would meet my fellow adventurers.
On a bus bound for Vatnajökull Glacier I prayed that I would see the very weather dependent Northern Lights.   Alas, I'm yet again so simple-minded as I never expected the splendor that would be Iceland's waterfalls, beaches, lava fields and glacier lagoon.  Who knew that the pursuit of the Northern Lights would just be the popular, natural phenomenon that would lead me to Iceland's true glory?
Now, I've been quite careful to keep personal photos of myself — well personal.  However in this case you need to see me in my natural element to appreciate the experience.
First stop?  The forest waterfall — you know how I love a good waterfall!  However, note to self, wet jeans stay wet for a VERY long time…
Next?  The black pebble beach and basalt columns.  The basalt column to the right was the inspiration behind the Hallgrimskirkja church,
In route to our next stop, we drove through the Laki Lava Field which is the largest single episode lava field on the planet.  It's difficult to see beyond the spectacularly clouded sky, but the flowing lava formations are covered with a deep green moss which is reported to be the "slowest growing plant" with an estimated 2cm growth per century,
Have you started to wonder, is it unbearably cold in Iceland?  Nope, it was colder in New York last weekend.  It was so warm in fact that my ice caving adventure was thwarted by rain and warm weather.
Instead we went to the Glacier Lagoon,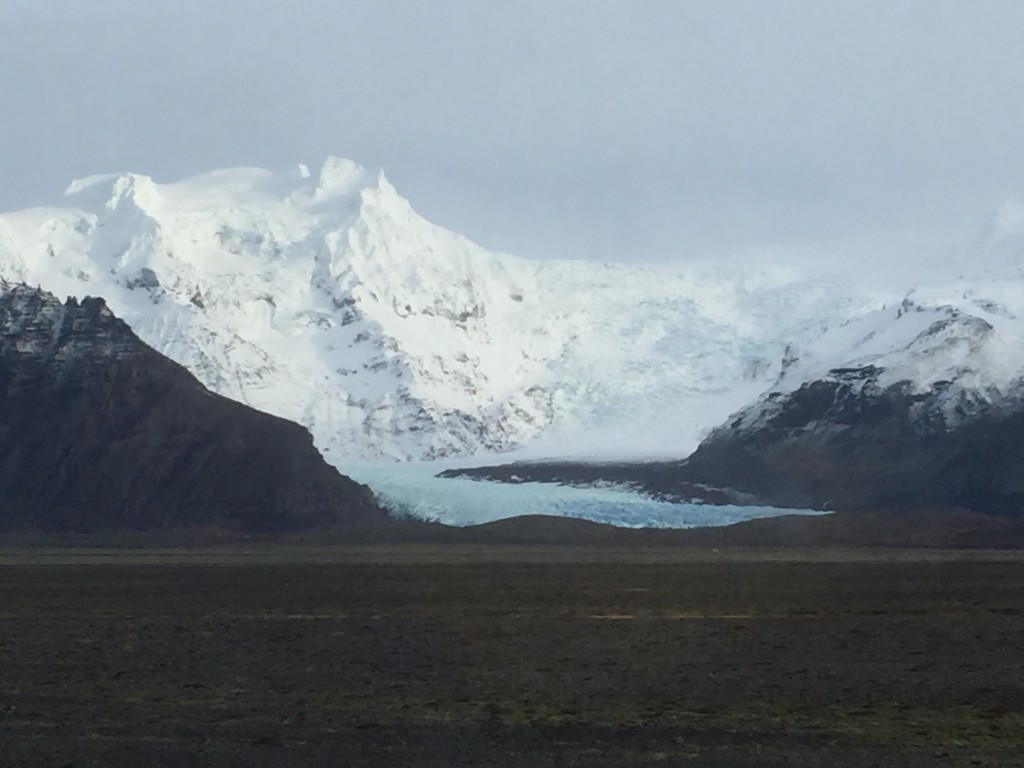 This is my first glimpse of the glacier,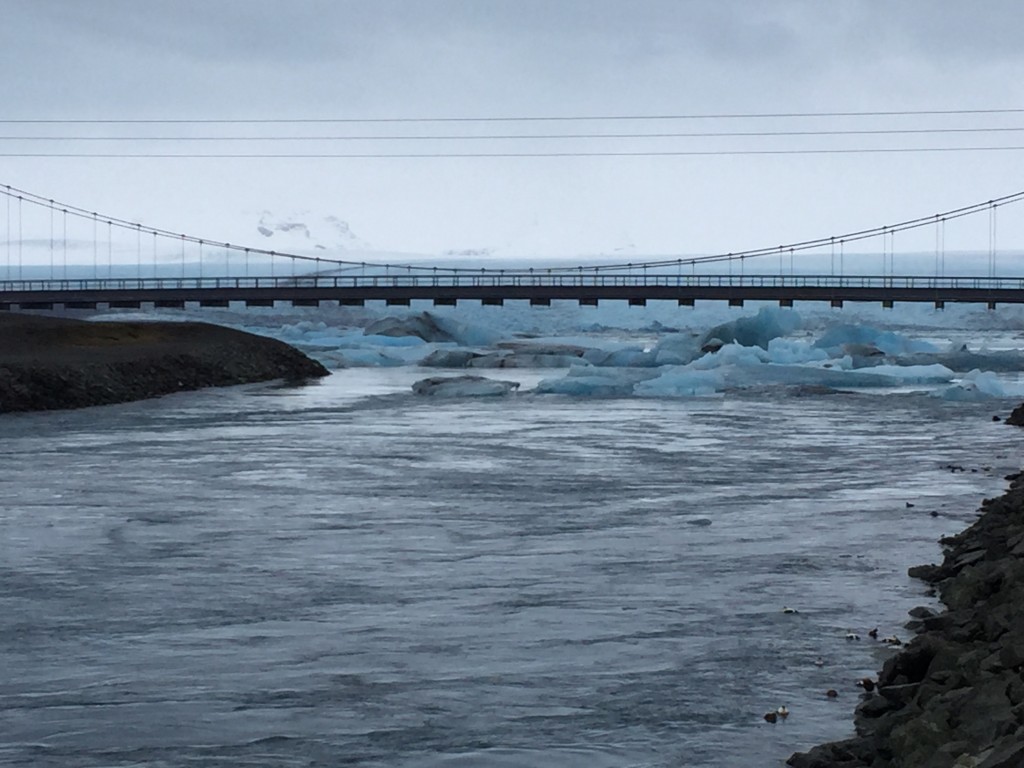 Followed by a vision of icebergs (back) flowing down to the sea (forward),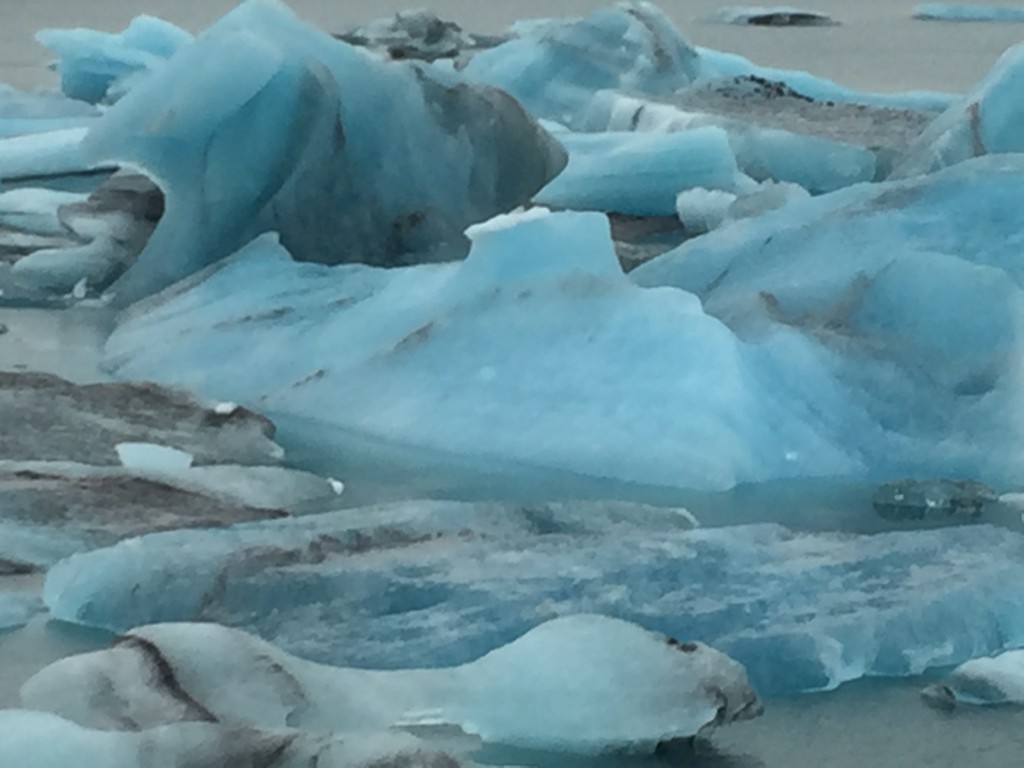 The water is a color that certainly must have inspired Crayola!  It's unpolluted and pure enough to drink,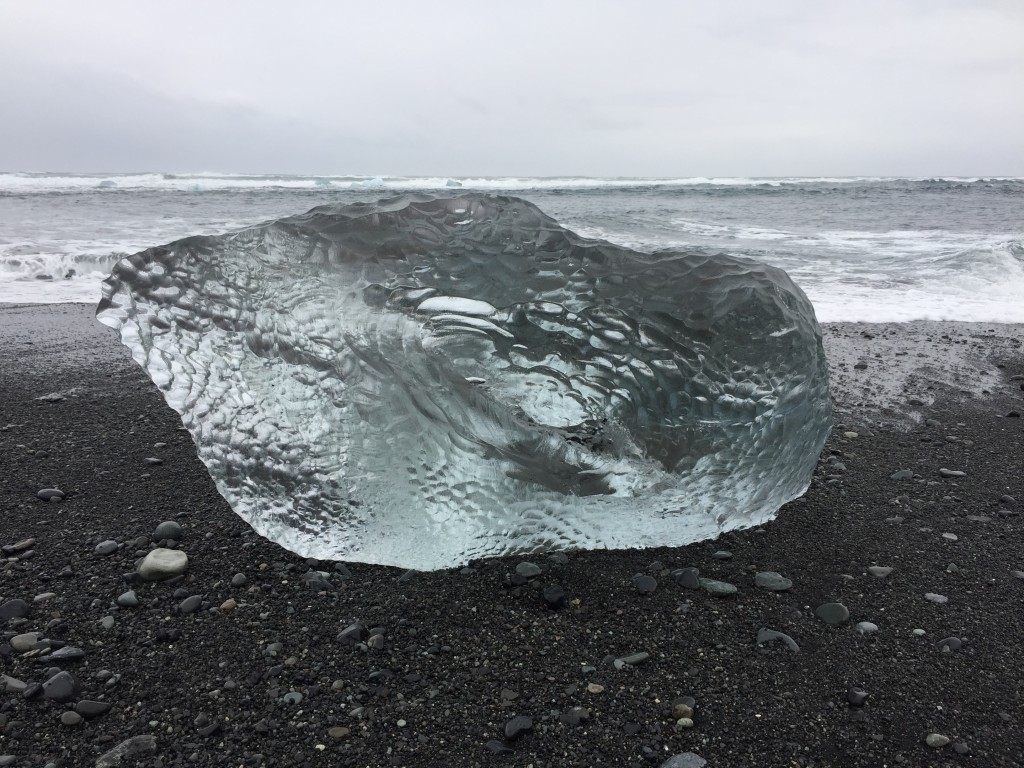 It was this ice beauty that reminded me you must remember to BRING VODKA if you plan to drink it off an iceberg,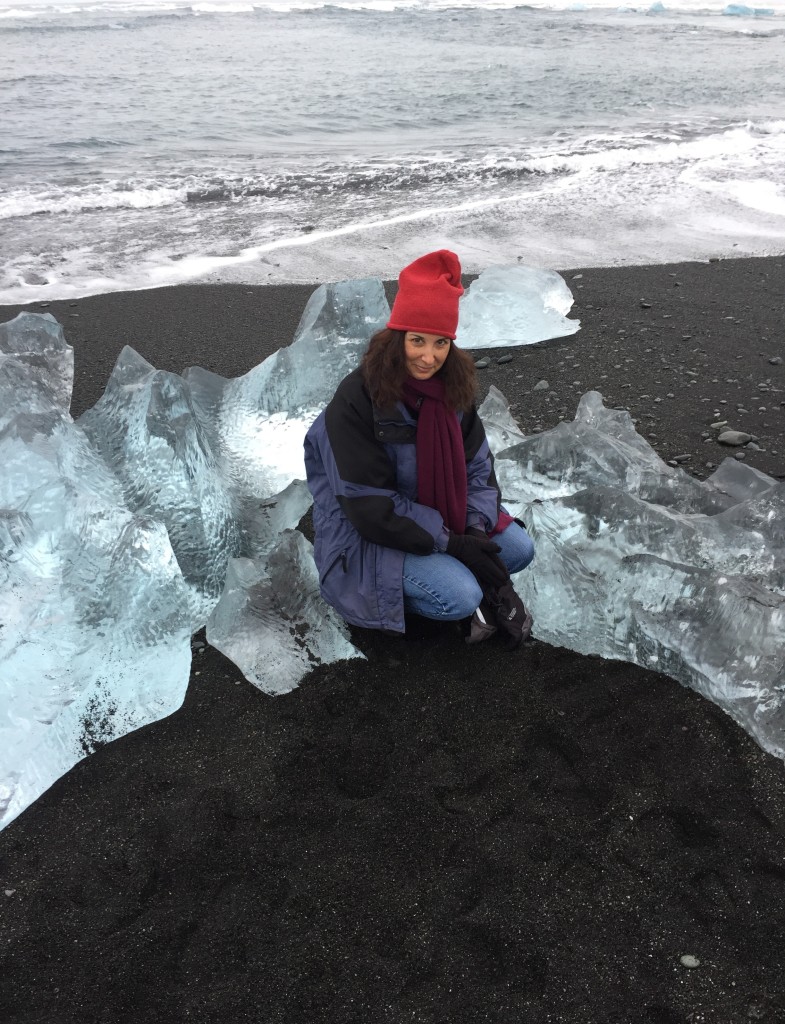 No worries, I had bigger problems with the dorky look of my ill-fitting red winter hat.  At least I knew they would spot me if I fell off a cliff, was dragged out to sea or fell into a deep crevasse.
Which leads me to my next destination adventure — glacier hiking.  Now glacier hiking is like regular hiking; up, down, up again, heavy breathing, elation than exhaustion.  The primary difference between, let's say trail hiking and glacier hiking is the potential danger and risk.  You mitigate the extreme risk by adding specialized safety equipment meant to give varied, stepped levels, of support.  Let me explain.
To start, you're given a pair of crampons which are like soccer cleats on steroids.  Instead of small, evenly spaced spikes, crampons have deep, peripherally located blades that sink into ice providing (theoretically) secure, stable footing.
The next item on the safety scale is the ice axe.  Ice axes are helpful if you need to ascend or descend under icy or snowy conditions.  The reality is A. they hope you won't stab yourself with the ice axe and/or B. fall into a crevasse where you might need to actually use the ice axe.
The last safety tool is a simple harness and rope.  If you fall down or into something (???) they basically fish you out.  Since no one was concerned about my level of ability — I went with the flow.
Harness?  Check.
Crampons?  Check.
Ice axe?  Check.
Are glaciers slippery when wet?
HELL YES!
So it turns out glacier hiking is completely counterintuitive; your head tells you to walk gingerly and shuffle along but your glacierist tells you to walk tall and with intention.
You MUST stomp your feet securely into the ice, assuring a steady foot.
Being at the head of the pack, my fearless guide led me out onto what can best be described as a ridge pole. To my left was a steep dark crater and to my right was his deeper, wider, older brother.  I giggled flirtatiously as I asked him if he really wanted me to follow him out to the apex?
He did.  So I did,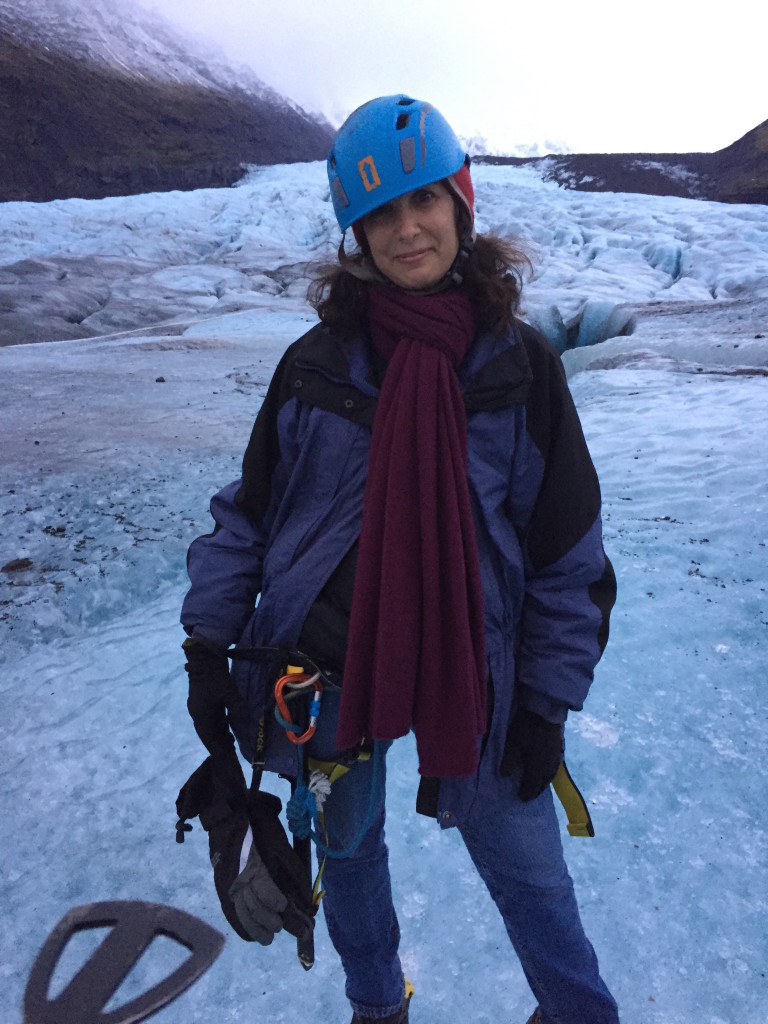 If you look closely, you can see the deep, intense look of fear in my left eye.  My feet are astride the peak of the glacier with a steep drop to the left and the right.  Checkout the large, glacial opening over my left shoulder ?!?
I'm cramped on for dear life — my ice axe is hanging confidently from my hip and my rope?
IS ATTACHED TO ABSOLUTELY NOTHING!
It's at this point I took stock of my surroundings; and, as I stilled myself, I could hear the sound of pure silence.
Taking a few very deep breaths I realized I was probably as physically close to heaven as I would ever get and, for the first time ever, I wished I could touch Chris again…
As I settled back into my transport home a friend texted asking if I'd seen the Northern Lights?
I answered, no, but I'd seen so, so, so very much more!
Iceland, first, represents the purest sense of adventure and unspoiled beauty.
The mountains, the sea, the glaciers and lava fields are all miracles of nature.  It's said that when charged particles from the sun strike atoms and molecules in the Earth's atmosphere, they excite those atoms, causing them to light up. It's these excited atoms that give the Northern Lights their brilliance.
I believe that excitement and brilliance are contagious.  This was the most elating experience ever!
So no Northern Lights and iceberg flavored vodka — what did I get instead?  I'll start with a visual,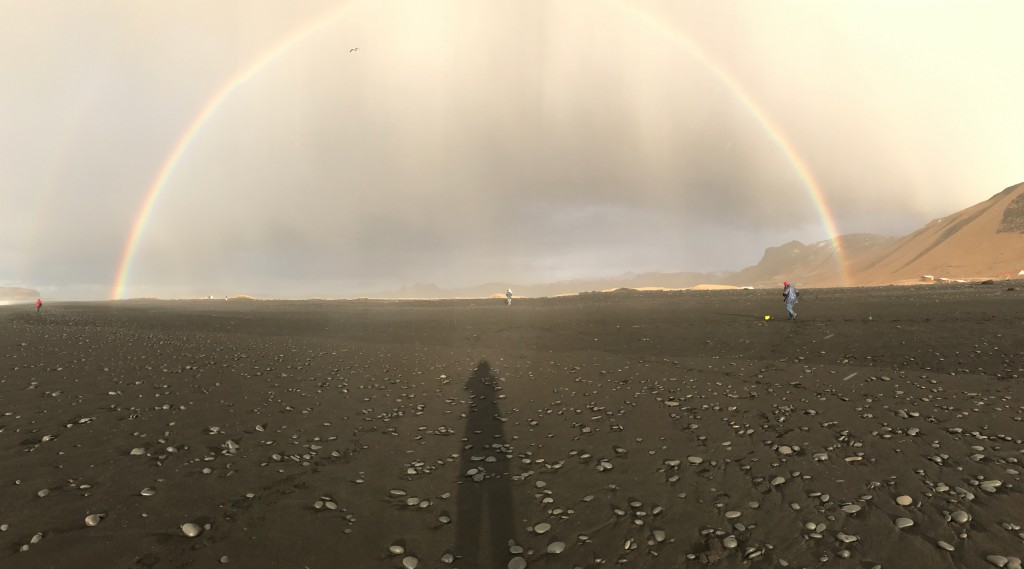 Rainbows!  Tons of rainbows!  Even double rainbows as drawn by a child; perfectly arched and full of deep color.
I'm the little form to the right — my friend is the larger shadow taking the photo.  It was her 25th birthday and she was traveling alone.  She may have been the true joy of the journey; as she taught me so much.
As adults, why do we wait?
What's going to happen when we have more money?  When we have more time?
How much time is enough?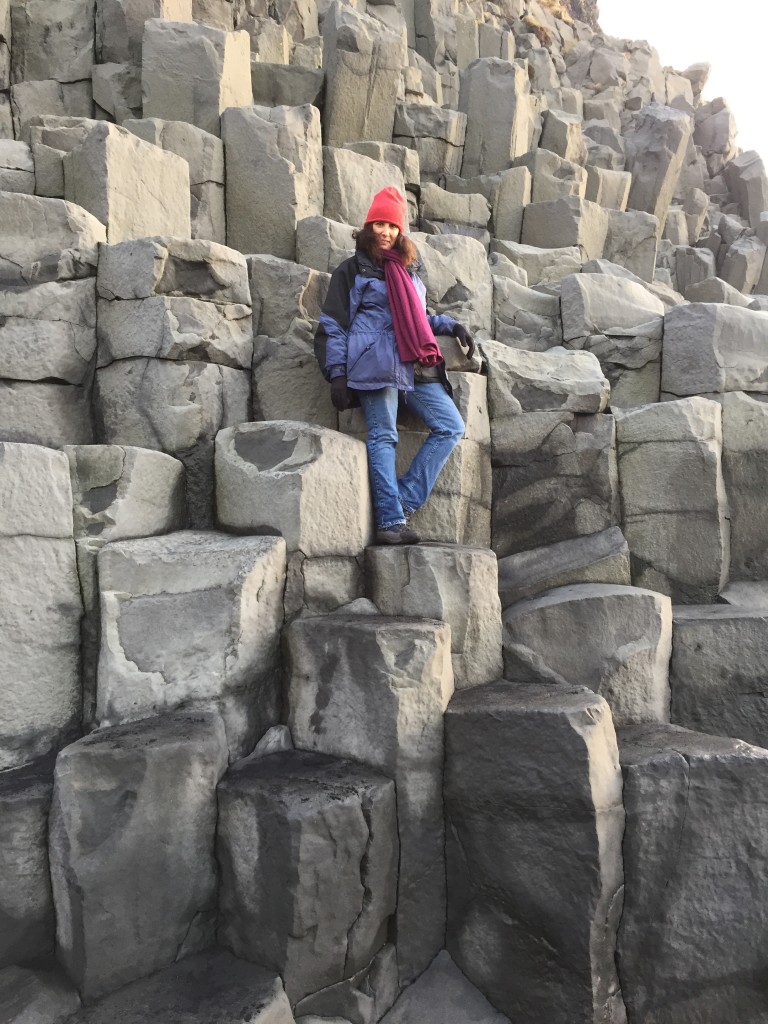 In this case, and in so many others since Chris died, I didn't wait.
I spent a minimal amount of money.
And I accomplished a ton in a very short period.
What more do you need to be inspired?  Think about it…
Have a great week,
Comments
comments